community information
Cross Creek Ranch Community Association
About Cross Creek Ranch

VISION...NATURALLY
The moment the entry arches say "welcome," you know you are someplace special. From concept to groundbreaking ceremonies, hundreds of individuals have contributed to the vision of Cross Creek Ranch Community Association. Native trees, vast greenbelts, and lakes take the stage as vision becomes reality and this unique master plan grows into a community partnered with the natural environment for sustainable living.
Cross Creek Ranch Community Association offers small-town charm with easy access to city delights. The community is located west of Houston in Fulshear, Texas right off of FM 1093. The community is just a few minutes west of both Grand Parkway (Hwy. 99) and the Westpark Tollway. Located in Fort Bend County, one of the fastest-growing areas in the state, it's the perfect location if you are looking for a quiet country setting, with all of the convenience of a major city just a stone's throw away.
The Cross Creek Ranch Community Association land plan is designed to showcase the region's natural beauty while restoring lost environmental systems and supporting local wildlife. For more information on the environmental design, click here.
Welcome Center

The Welcome Center, located at 6450 Cross Creek Bend Lane, is home to an amazing Johnson Development Team who is there to welcome potential and new residents home.
Located inside you'll find access to a 70-foot tower to catch a breathtaking view of the community.
This location is not available for private rental or use at this time.
Our Welcome Center is now open Monday-Thursday and Saturday 10-5, Friday 10-4, and Sundays 12-5. Come take a tour and experience all we have to offer.
Model homes are open daily!
Visit the Welcome Center for:
community overview
brochures
maps
observation tower
lunch at the Italian Maid Café
6450 Cross Creek Bend Ln.
Fulshear, TX 77441
View on map
(281) 344-9882
Fitness Center

This fully-amenitized 6,500 square foot gym is professionally staffed and managed and features state-of-the-art equipment for all workout levels, including the latest in advanced cardio equipment, free weights, and spin cycles. Fitness classes, showers, and lockers are also available.
Group fitness schedules and personal training
Shower and locker rooms
Well-stocked free weight and calisthenics area
Top-of-the-line cardio and strength equipment
Multiple television screens throughout the facility
The Fitness Center's hours of operations:

Ages 18+ ONLY
Monday - Thursday 4:00am-10:00pm
Friday 4:00am-9:00pm
Saturday 4:00am-7:00pm
Sunday 4:00am-7:00pm
Ages 13-17 Permitted Temporary Access Holders
Monday - Thursday 5:00am-10:00pm
Friday 5:00am-9:00pm
Saturday 8:00am-7:00pm
Sunday 11:00am-7:00pm
Feel like exercising in the great outdoors? Learn more about our outdoor parks and trail system. (Please note: CCRCA amenities are for Cross Creek Ranch and Cross Creek West residents only.)

10yrs - 13yrs: access to all amenities EXCLUDING the Fitness Center completely.
13yrs - 17yrs: access to all amenities including the Fitness Center during STAFFED HOURS ONLY.
18 and Over: access to all amenities including Fitness Center during staffed and non-staffed hours.
While new to the community as CCRCA's Fitness Director, Kylee has been in the fitness industry for over 5 years. Kylee's passion lies in the interaction with an individual in turning healthier choices into a lifestyle. As a certified Personal Trainer, Kylee is passionate about providing exercise programs that are personalized to each individual and creating a successful and positive atmosphere. Kylee has had experience working with young athletes to individuals in their late 90's, working alongside clients and their physical therapists to meet goals from weight loss, increased range of motion, and pain management.

Kylee loves to work out, enjoys the occasional graphic design project, painting, or spending time with her family, her husband Patrick, or her dogs Dublin and Dakota. She is looking forward to continuing her passion for health and fitness with the community of CCRCA.

Kylee Ford, Fitness Director
Community Room

Whether it's a party, corporate event, or wedding, the multi-purpose room features a full-service commercial kitchen for all preparations and catering needs. The parties, receptions, classes, conferences, or other special events it can accommodate are limitless. Cross Creek Ranch Community Association itself leads the way, regularly planning community-driven events to bring together neighbors for fun and catching up in this space.
The center's high ceilings and large windows provide natural lighting and allow you to take advantage of the spectacular views of the lake and pool area. The CCRCA Community Room, located in close proximity to the water park, facilitates memorable summer events and pool parties.
Available for weddings, receptions, private parties and birthdays
Community-wide events & market days
Corporate events & conferences
High-tech media projector system for presentations
Bay doors that open up to the commons and pool area
Catering kitchen for your special catered events
View the Community Room Rental Agreement to book your next event!
Adventure Island

One of CCRCA's most popular resident-only amenities, Adventure Island Waterpark, is super cool fun for the whole family. The enormous resort-style swimming pool is a great place to spend hot summer days. It features a tremendous 140-foot water slide perched atop the community's iconic Hill, which overlooks the main lake. You can also have a blast at the Splash-n-Spray Park or play it cool lounging on the shaded deck. Adventure Island even has a wading pool, dedicated lap lanes, and tanning shelves with water jets. Whether you like to relax or play, Adventure Island Waterpark definitely makes a splash.
The address for this facility is:
6430 Cross Creek Bend Lane
Fulshear, TX 77441
Click here to view 2022 Pool Hours. * 2023 pool season is May 1-September 30. Each month's specific schedule will be released in the My CC App the month prior, if not sooner.
Amenities - Pool Rentals If you are interested in renting the pool, please call or email the pool management company at 281-376-6510 or office@a-beautifulpools.com to make your reservations. Note: Flewellen Creek Pool is not open for pool party reservations. Parties are not permitted during pool hours.
Pool parties may be booked by homeowners/renters who are at least 21 years of age and who are in good standing with their association. Parties that will have guests less than 21 years of age must have 1 adult present for every 10 party guest. If you are interested in renting the pool, please call or email the pool management company at 281-376-6510 or office@a-beautifulpools.com to make your reservations. Note: Flewellen Creek Pool is not open for pool party reservations.
The Hill and Lakes

Our lakeside hill (dubbed "Mt. Fulshear" by some of the folks in the community) is a wonderful gathering place for our residents. It's the perfect place to walk your dog, ride your bike, have a picnic, fly a kite or just relax.
The spiral sidewalk leads you to the top of the hill with terrific 360-degree views of the entire community. This man-made hill provides a 40-foot incline for our Water Slide and is host to a number of the newly planted trees that are a part of our restoration efforts throughout the community. With an outdoor stage at the lake's edge, "The Hill" is the ideal venue for concerts and other seasonal community events.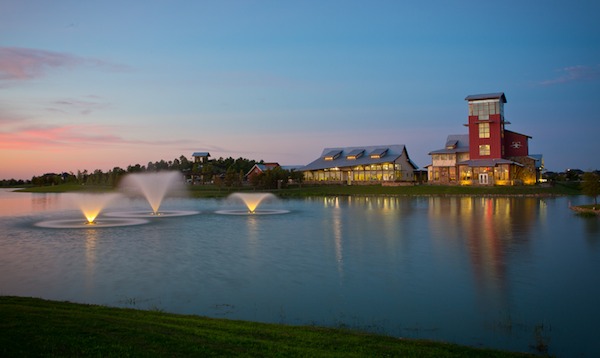 Waterfront views are available throughout the community with Cross Creek Ranch's extensive lake system. Hundreds of acres of lakes provide a scenic landscape for the Fitness Center, the Italian Maid Cafe and the Hike-and-Bike trail system. With a boat ramp located at the base of "The Hill," residents can enjoy non-motorized boating in one of our largest lakes as well as catch-and-release fishing.
Lakeside hill with wonderful views of the amphitheater and main lake
A perfect picnic spot for your family and friends as well as special concert events
Catch-and-Release fishing permitted in all lakes
Non-motorized boats such as kayaks and paddle boats are welcomed in the lakes
Maximized lakeside views developed along trails throughout Cross Creek Ranch
Arbor Park

Featuring two tennis courts, a basketball court, and playgrounds for all ages, Arbor Park is open to all homeowners in CCRCA. It is also the main access point to our Flewellen Creek Disc Golf Course.
Physical Address:
5757 Morgans Spur Rd.
Fulshear, TX 77441
Tennis courts perfect for doubles and singles play
Basketball court
Sand volleyball court
Main entry to Flewellen Creek Disc Golf Course
Covered pavilion for picnics and parties
Children's playgrounds for all ages
Restrooms
Key card access
Flewellen Creek Pool

There's something for everyone to enjoy at Flewellen Creek Pool. Cool off in the generously sized infinity-edge pool featuring dedicated lap lanes, relax on comfortable loungers under shaded structures, enjoy activities on the green and so much more. Soak up some fun in the sun at one of Cross Creek Ranch's coolest hangouts!
The address for this facility is:
6011 Flewellen Oaks Lane
Fulshear, TX 77441
Click here to view 2022 Pool Hours. * 2023 pool season is May 1-September 30. Each month's specific schedule will be released in the My CC App the month prior, if not sooner.
This facility is not rented out for pool parties.
Canine Commons

A PARK ESPECIALLY DESIGNED FOR OUR FOUR-LEGGED FRIENDS.

Canine Commons is especially designed for our four-legged residents! Canine Commons features nearly one acre of fenced dog park with separate areas for larger and smaller dog breeds. The park's amenities include a covered pavilion with tables, benches, drinking fountains, a wash-down area for dogs, and gated entries.
Canine Commons is located off Flewellen Oaks Way, just south of the Fry Road entrance.
| | |
| --- | --- |
| | To view a rendering of Canine Commons, click here. |
Flewellen Creek Park

ECO-FRIENDLY LIVING BY DESIGN

The community land plan for CCRCA was designed with two objectives in mind: to enhance the lifestyles of our residents and to be eco-friendly in the process.

Every effort has been made to develop the natural beauty of our community while making a positive and proactive contribution to the environment. Our innovative and intelligent land plan design will enrich the lives of everyone who calls CCRCA home, both now and for the generations to come.
Winding approximately 150 acres through the very heart of CCRCA, Flewellen Creek Park is destined to be one of our most unique and delightful amenities. The restoration of the creek and the development of the surrounding park will produce a rich, natural centerpiece that connects the entire community. By taking cues from the surrounding environmental region, Flewellen Creek is being restored to a beautiful and balanced eco-system that will provide support for birds and wildlife as well as a natural backdrop for our hike and bike trails and disc golf course.
Pine Park

How many ways are there to enjoy our newly expanded Pine Park? Let's count!
1. Lighted tennis courts 2. Basketball court
3. Pickle ball court 4. Wall ball court
5. 7-hole putting green 6. Expansive playground
8. Restrooms 9. Picnic Pavilion
But wait, there's more. We've installed the first pendulum swing in Cross Creek Ranch. The Cocowave Pendulum Swing allows for swinging from a seated, lying or standing position. Children of all ages and physical abilities can swing. It also encourages kids to problem solve and socialize since it takes teamwork to make it move. Once the kids have tried that out, they can take a stab at climbing the Explorer Dome. Riffing on the traditional jungle gym, this play structure includes meandering nets, ropes and wobbly play items. Kids can climb, crawl, balance and meet their friends at the top.
In addition, the lights and everything else at the park run off of solar panels (a nod toward the community's efforts toward sustainability) and there is a painted mural on the wallball court facing the four-way intersection of Fulshear Bend Drive and Cross Creek Bend Lane.
The address for this facility is:
4343 Cross Creek Bend Ln
Fulshear, TX 77441
The Fields at Pine Park

A great addition to Pine Park, just across the street! This park has a pavilion with a table and open space to spend the day with your family!
The address for this facility is:
4343 Cross Creek Bend Ln
Fulshear, TX 77441
Greenthread Park

The northern section of Cross Creek Ranch is exploding with new neighborhoods, new home designs and -- a new large-scale pool/park/pavilion complex. Greenthread Park offers a resort pool with something for everyone, from water features for the adventurous to sunbathing shelves for those seeking relaxation.

The park also has a playground, party pavilion, event lawn, and trails. It is within walking distance of Whimbrel Lake, Highlands, Egret Lake, Wild Rye, and Bluestem neighborhoods.

The CCRCA sports fields may only be reserved for their designated use and current/future reservations are subject to cancellation in the event they violate this policy. Residents may not reserve a sports field on behalf of a team unless the team has a signed Sports Field Agreement and has been given prior approval by CCRCA.

Click here to view 2022 Pool Hours. * 2023 pool season is May 1-September 30. Each month's specific schedule will be released in the My CC App the month prior, if not sooner.
If you are interested in renting the pool, please call or email the pool management company at 281-376-6510 or office@a-beautifulpools.com to make your reservations.
Park & Playgrounds

POCKET PARKS ARE LOCATED CLOSE TO EVERY NEIGHBORHOOD...


Located within walking distance of every section, Cross Creek Ranch offers pocket parks with fun playground equipment for kids of all ages.
Pocket parks located within walking distance of every section
Designed with the latest playground equipment
Safety rated for children of all ages
Kiddie cushion mulch-filled surfaces



Disc Golf Course

CHALLENGE YOUR FRIENDS ON THE FLEWELLEN CREEK DISC GOLF COURSE

Running along the Flewellen Creek, our disc golf course offers the perfect way to spend a laid-back, yet challenging afternoon. Go solo or bring the family, because it's a sport anyone can learn and play competitively.

Disc golf is like regular golf, but easier to learn. You play with a disc instead of a ball, so there are no clubs. Our course is integrated into the forested Flewellen Creek greenbelt, which offers water hazards, slopes and trees for a challenging game.
It's the perfect addition to Flewellen Creek because of its low environmental impact. The land doesn't need to be altered, and the natural features actually enhance the play experience. That is how we like to do things at CCRCA.
Disc Golf at CCRCA is fun for everyone and very easy to learn. With diverse sports amenities such as the disc golf course, you'll never have an excuse not to go outside and play. Have fun!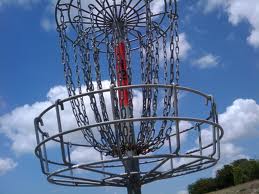 Hike & Bike Trails

Miles of hike-and-bike trails meander through the gently rolling hills of Cross Creek Ranch. Winding mostly along the water's edge, the trails border the several hundred acres of lakes on the property. Trails also run along the newly restored Flewellen Creek, connecting the community near the amenity center.
Families walk dogs and individuals run with comfort as the breeze blows by from over the nearby water to keep things cool.
Miles of Hike-and-Bike trails along the lakes and around Flewellen Creek
Small rest areas with shaded park benches
Doggy bag stations located at convenient areas along the trails
Always something new to discover with dynamically changing wildlife and wildflower views
View a map of the system here.
Italian Maid Cafe

OPEN TO THE PUBLIC, ITALIAN MAID CAFÉ IS RIGHT IN THE COMMUNITY.
Kick back and enjoy a delicious meal at the Italian Maid Café in Cross Creek Ranch.
Hours of Operation:
Tuesday - Thursday 11:00 am - 7:00 pm
Friday 11:00 am - 8:30 pm
Saturday (breakfast all day) 11:00 am - 7:00 pm
Sunday 11:00 am - 4:00 pm
Italian Maid Cafe Gift Cards Expiring Soon!
Do you have a $200 Italian Maid Café gift card or coupon that you haven't used yet? Now is the perfect time to use it!
As of April 30, all gift cards will expire. Our onsite restaurant has a tasty menu with something for everyone. Plus, Music on the Patio is just around the corner, with the first one happening March 10. Don't feel like dining in? Use your gift card to get food to go – you can even use it for a catering order!
If you haven't been to the cafe in awhile, we've kept your favorites and added new creations we know you will love! A couple new items we know you'll be excited to try: Spinach and Artichoke Dip, Blue Walnut Salad, Crab Cakes and more! Be sure to take a look at the Family Meals section - call ahead and pick up dinner on your way home!
Association
Annual Assessment

The assessments are due on January 1st of each year and provide for services in the community such as code enforcement, upkeep of the amenities (pool, fitness center, sports park, and lakes), and landscaping just to name a few.
Every owner has an obligation to pay the annual assessment. Please note: If you do not receive a statement, you must contact C.I.A. Services immediately to confirm your balance and ensure it is paid on time.
You may pay online, and payment arrangements are available by contacting C.I.A. Services. To avoid penalties, please make arrangements by January 31st.
Exterior Modification

All exterior alterations or improvements to a property must be reviewed and approved in advance of construction by the Architectural Control Committee (ACC). Residents must submit a Home Improvement Application describing the work to be performed. The ACC will review the request and render a decision within 30 days. If it is not approved as submitted, the ACC may provide suggestions for making changes so it can be resubmitted for approval.
To complete your application, click on Ask. Request. Submit. There you will enter all of the information needed in order for the committee to make an informed decision. Any applications dealing with the exterior appearance of the house (such as painting or roofing) must be accompanied with project details or the application might be disapproved for lack of information. Also include a plat map or survey of the property that indicates the project in conjunction with the property lines and easements when applicable. Please note, all applications for swimming pools and buildings over 120 sq. ft. require a $1,000.00 deposit. Applications for these items will not be processed until receipt of the deposit. Deposits should be mailed to the North Office at 18333 Timber Forest Drive, Humble, Texas 77346.
As soon as you have gathered your information, you are ready to get started.
Visit the Community Documents page to review all of the governing documents or click Modification Guidelines.
Environmental Design

NATURALLY.
The community land plan for Cross Creek Ranch Community Association was designed with two primary objectives: To enhance the lifestyles of our residents, and to be eco-friendly in the process.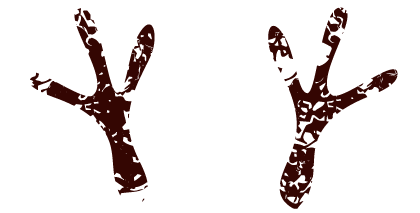 FLEWELLEN CREEK PARK
---
Winding approximately 150 acres through the very heart of CCRCA, Flewellen Creek Park is destined to be one of our most unique and delightful amenities. The restoration of the creek and the development of the surrounding park will produce a rich, natural centerpiece that connects the entire community. By taking cues from the surrounding environmental region, Flewellen Creek is being restored to a beautiful and balanced eco-system that will provide support for birds and wildlife as well as a natural backdrop for hike-and-bike trails and a disc golf course. Click here for more details on Flewellen Creek Park.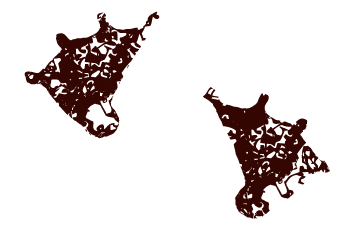 POLISHING POND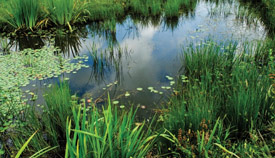 ---
There's a "Party at the Pond!"
Daybreak through dusk, CCRCA residents are invited to join the "Party at the Pond." Feathered, finned, wild and crazy, new guests arrive daily, welcoming all with a chorus of nature's song. The Polishing Pond is a natural habitat and lush oasis for birds and other wildlife and a beautiful amenity for our residents. Almost fifty acres, the pond is equal to approximately 48 football fields or 7,200 tennis courts!
While you enjoy the party above the surface, just underneath, the Polishing Pond is busy functioning as an engineered water quality basin. The water here is filtered for reuse throughout the development for irrigation. Just another way CCRCA is committed to living...Naturally.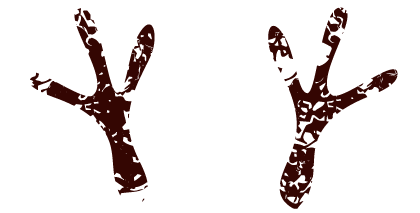 NATIVE TREES & GRASSES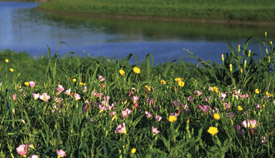 ---
Natural reforestation zones are comprised of a dense mix of evergreen, deciduous and bottom-land trees. Planted within sweeping drifts of love grass, these trees will provide shade for the community, capture carbon, increase oxygen, and contribute to an interconnected ecosystem. Large meadows feature native grasses with wildflowers selected for their drought tolerance, low maintenance requirements, and extended bloom time.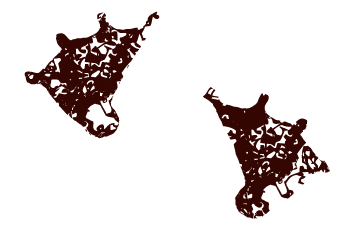 BIRD & WILDLIFE HABITATS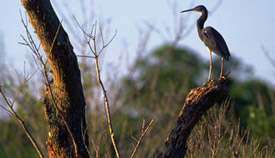 ---
The restoration of Flewellen Creek, along with our other ecological efforts, contributes to the growth and maintenance of a healthy, natural habitat for a wide variety of birds and wildlife. The reforested areas and meadows provide a shady and protective land-based environment, while the lakes and wetlands are an aquatic haven for various fish, wading birds, frogs, and turtles.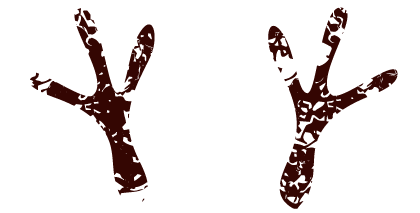 NATIVE PLANT & ANIMAL PHOTO GUIDES:
NATIVE PLANTS & FLOWERS | NATIVE BIRDS & WILDLIFE | NATIVE TREES
Services and Utilities
Water Service

CROSS CREEK RANCH WATER IS PROVIDED BY THE CITY OF FULSHEAR.

On March 1, 2016, the City of Fulshear began managing its own water utility accounts. All accounts previously serviced by our third-party operator, Inframark (formerly known as Severn Trent), were merged into the City's existing solid waste utility accounts. Customers will now receive a combined bill for water, sewer, solid waste and recycling utilities.

The City of Fulshear will continue to contract with a third-party provider for the maintenance and operations of our public water and wastewater utility systems.
Inframark provides a full range of solutions for both public and private sector clients, from the individual aspects of utility management to the provision of integrated water and wastewater services.
Contact Customer Service: 281.346.1796
Email Customer Service: ubservices@fulsheartexas.gov

Pay Online: www.municipalonlinepayments.com/fulsheartx
Payment Mailing Address:
PO Box 1134
Fulshear, Texas 77441
Trash Collection - Solid Waste

CROSS CREEK RANCH TRASH SERVICE IS PROVIDED BY WCA-WASTE CORPORATION OF TEXAS.
Residential and Commercial Solid Waste & Recycling Services
FAQ regarding Solid Waste Services
The City of Fulshear has an exclusive three-year franchise contract with WCA-Waste Corporation of Texas. Ordinance No. 01-878 states that city residents and commercial businesses are required to pay for solid waste services whether those services are utilized or not. In accordance with the Texas Health and Safety Code, the City must ensure sanitary conditions including solid waste services for all residents and businesses of the City. Citations will be issued by the City of Fulshear for delinquent accounts.
WCA is the only approved solid waste franchise provided within the City limits.

WCA provides 95-gallon carts for all residents for solid waste (gray lid) and recycling (yellow lid). Collection services are provided every Wednesday between 7:00 AM and 5:00 PM. All garbage must be placed on the curb by 7:00 AM to guarantee pick up. The carts provided by WCA are the only approved carts for the automated collection services. Unapproved carts will not be serviced. Additional carts are available through WCA at a rate of $5.00 per month, billed in full each calendar year. Please contact WCA directly for an additional cart. A radio frequency identification number (RFID) is branded on each cart and recorded by address. Carts are to remain at the property assigned, regardless of occupancy and whether or not the carts are used. For more information about the carts and collection services, please refer to the trash and recycle specification sheets.

Bulk/Heavy/Large items that will not fit into the provided carts, once broken down, should be placed beside them for pick up. If the items are too large, WCA will flag them with a yellow tag, providing information on special collection pricing/pick-up. Special collections for large items can be scheduled with WCA at any time, a yellow tag is not required.

Recycling services are available to all residents and are included in your monthly bill. Residents who do not wish to utilize the recycling service may opt-out of such service by submitting the Recycling Service Opt Out Agreement with a copy of a government-issued photo ID. Please refer to our forms page for more information. Please refer to Ordinance 2014-1131 for opt-in/out options.
The business office has a full-service payment window for utility payments. The city offers many options to pay your bill: cash, check, ACH, and credit card (excluding American Express).
The City also offers an after-hours payment drop box located by the exterior left entrance of city hall. (The City
discourages residents to drop cash payments in the after-hours box).
Business Office: 30603 FM 1093 Road West, Fulshear, Texas 77441
Phone: (281) 346-1796
Hours of Operation: Monday through Thursday 8:00 AM – 5:00 PM and Friday 8:00 AM – 3:00 PM (excluding scheduled holidays)
Handicap services are available upon request based on need. Medical documentation must be provided to the City of Fulshear and services will be provided upon application approval. If you are in need of this service, contact the business office for more information.
Residential solid waste services are billed monthly at a total fee of $18.00 ($14.71 for trash and $3.29 for recycling), which is subject to tax.
Commercial rates are based on size and frequency of pick up. Please see City Ordinance 2014-1128 for more information.
Fulshear Post Office

CROSS CREEK RANCH POST OFFICE OF FULSHEAR.
Located at 8055 FM 359 Rd S, Fulshear, TX 77441
Contact Numbers:
Phone: 281-533-9146
TTY: 877-889-2457
Toll-Free: 1-800-Ask-USPS® (275-8777)
Visit our Links Page for information pertaining to Change of Address, Hold Mail/Stop Delivery, PO Boxes™ rentals and fees, Rates on Postage Stamps and Freight/Shipping, Holidays, Bulk Mail, Money Orders, and Available Jobs for Employment in a new post office career.
Streetlights

CROSS CREEK RANCH STREETLIGHT'S ARE MAINTAINED BY CENTERPOINT.
If a light is out or blinking, please call CenterPoint at 713-207-2222 or report it online.

You will be asked to provide:
a pole number for the non-functioning lights you want to report

contact information (in case more information is needed to locate a streetlight)

an e-mail address (if you want feedback regarding your repair request)

the number of streetlights you would like to report
Telecommunication

CROSS CREEK RANCH TELECOMMUNICATIONS.
Fulshear residents have many options when choosing a telephone or internet provider. Most providers offer bundled service packages to residents for a more cost-effective product. Some of those providers include but are not limited to DirectTV, Comcast, AT&T and Dish Network.
Security
In case of an emergency: Dial 911
The Fulshear Police Department was reestablished in 2007 under the direction of Kenny Seymour, Chief of Police. The police department uses state of the art technology and all officers are equipped with body cameras and dashcam video in every patrol vehicle.
You can reach the Fulshear Police Department at any time by the information provided:
Non-Emergency Dispatch: 281-346-8888
Main Line: 281-346-2202
Note: The Fort Bend County Sheriff's Office dispatches for the Fulshear Police Department
Fulshear Simonton Fire Department
Administrative Offices are located at:
FSFD Station 1
35011 FM 1093
Simonton, TX 77476

Non-Emergency Phone: 281-346-2800
Fax: 281-533-0314
FSFD Station 3
26051 Fulshear Gaston Road
Richmond, TX 77406
City of Fulshear
Visit the City of Fulshear at www.fulsheartexas.gov
The City of Fulshear is located in northwest Fort Bend County, Texas, located at 29378 McKinnon, Suite A. The city limits stretch across approximately 10 square miles of beautiful landscape ranging from rolling terrain dotted with century old hardwoods, grassy prairie land, and serene low lands along the banks of the Brazos River.

The city was incorporated in 1977 and is a general law city. Primarily a farm and ranch community with a growing commercial district, Fulshear offers residents a relaxed country lifestyle and the convenience of being just seven miles from major shopping, dining and entertainment venues.
Fulshear, Texas is Fort Bend County's premier address featuring the highest per capita income and educational attainment in the area. It is rich in history, unique in landscape, and is located only 20 minutes from the Katy/Houston area.
City Council meetings are held: 3rd Tuesday of each month at 7:00pm:
30603 FM 1093
Fulshear, Texas 77441
For more information contact: dofford@fulsheartexas.gov
*Citizens may sign up for 3 minute comments prior to the meeting
*All meetings are open to the public with the exception of City Council Executive Sessions.
Planning Commission meetings are held: 1st Friday of each month at 8:00am:
30603 FM 1093
Fulshear, Texas 77441
For more information contact: dofford@fulsheartexas.gov
*The citizens of Fulshear will be notified of any specially called meetings 72 hours prior.